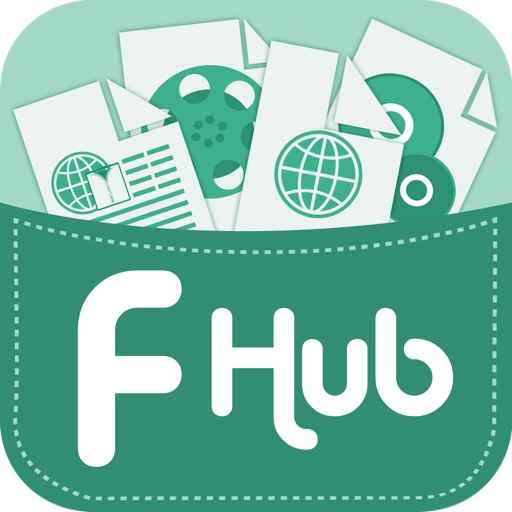 FHub
Showing app details for
iPAD
| | PUBLICATION | DATE OF REVIEW | SCORE | REVIEW LINK |
| --- | --- | --- | --- | --- |
| | | 13 Jun 2013 | 10 | |
| | | 31 Dec 2016 | 9.0 | Read reviews |
APP STORE SUMMARY
FHub is a unique and exclusive file manager, browser app for iPad, It's the first app on App Store give you flexibilities to transfer data from iPad device to any devices (PC, laptops, smart phones, iPads, tablet devices, …) and vice versa wirelessly.
FHub opens a new door for iPad users, it changes the way users normally use to transfer data between iPad and their computers. It removes USB cable completely, with this app installed you don't need to use USB cable any more.
FHub comprises separate components (File Manager, File Sharing, Ebook Reader, Web Browser, Multimedia Player, etc.), each works on a specific task, they together make it become a truly powerful file manager as well as an entertainment app.

Check what people say about FHub
"FHub: An iPad File Manager App Which Does More" from iGeeksBlog
"FHub: The most powerful file browser for iPad" from TechnoBlimp
"FHub: a personalized file manager" from AppPicker
"iPad App FHub, that acts as File Manager without Jailbreak" from iPhonage

CLEAN AND USER-FRIENDLY INTERFACES
- 
FHub comes with simple and clean user interfaces but very convenient to use. It's designed to be "What You See Is What You Get" (WYSIWYG), you can comprehend and get familiar with it easily.

DUAL-PANEL USER INTERFACE
- 
Dual-Panel is proven to be the most effective and fastest way to mange files on your device, just drag & drop to manage your files.

WI-FI DRIVE
- FHub employed SMB (or CIFS on Windows) protocol for file sharing, it turns iPad device to a Wi-Fi drive and let other devices access it.
- SMB file exchange protocol is largely supported on most modern systems (Windows, Mac OSX, Linux, Unix, etc.) so data exchange with iPad so easy and don't need to install any third party programs.
- Check out YouTube for Wi-Fi Drive feature www.youtube.com/watch?v=YLwWkC9P7hk

FILE MANAGER
- Create text files, folders
- Copy/Paste/Delete/Zip/Email operations
- Filter out the contents (files and folders) of a directory
- Import photos/videos from Photos app (Camera Roll)
- Save photos/videos to Photos app (Camera Roll)
- Take photos or record videos from Camera
- Create zip files: .zip, .7z, .tar, .iso, .ar, .cpio, .shar
- Unzip many formats: .zip, .7z, .a, .cpio, .tar, .iso, .xar, .shar, .ustar, .rar, .cab, .jar, .rpm, .gz, .bz2, .z, .xz

FILE SERVERS AND CLOUD SERVICES
- Support common file servers: FTP, SFTP, SMB, WebDAV
- Support cloud services: Dropbox, GoogleDrive, SkyDrive

FULL FEATURES WEB BROWSER
- Browse websites in many tabs
- Download files from websites
- Intelligent downloader can detect a source is a file or a HTML page and allows download files in almost websites
- Export pages to PDF, WebArchive or HTML
- Bookmark favorite pages
- History bookmarks
- Surf web in fullscreen mode

FULL FEATURES MULTIMEDIA PLAYER
- Play musics or videos in a list
- Allow reorganize the list
- Automatically get all musics or videos in the same directory to a list
- Playing modes: shuttle, no shuttle
- Support 3 loop modes
- Player controls
- Support audio formats: .mp3, .aac, .adts, .ac3, .aif, .aiff, .aifc, .caf, .m4a, .m4b, .snd, .au, .sd2, .wav
- Support video formats: .mov, .mp4, .m4v, .mpv, .3gp

DOCUMENT VIEWER

- Support view Word(.doc), Excel(.xls), PowerPoint(.ppt), Text File(.txt), CVS, HTML and WebArchive(.webarchive)

IMAGE VIEWER

- Support view high-resolution images: .png, .bmp, .bmpf, .jpg, .jpeg, .gif, .tiff, .tif, .ico, .cur, .xbm.

EBOOK READER

- Elegant UI make you feel comfortable while reading ebooks
- Support read PDF, EPUB, MOBI and AZW(Kindle) files
- Scroller allows scroll fast to a specific page
- Show thumbnail of a page (for PDF)
- Bookmark pages

OTHERS
- Support retina display
- Send mails
- Export files to other applications (Open In)
- Import files from other applications

*** We're looking forward hearing from you! If you have a question, issue or suggestion please visit our support site www.fhubapp.com or email us at support@fhubapp.com.
IMAGES (5)
EMBED THIS QUALITYINDEX BADGE
To add a Qi badge for FHub to your site:
Copy the HTML code snippet and paste it into your site.
The badge will automatically display on your web page with the FHub iPad app's current Qualityindex rating.
OTHER GAMES & APPS FROM NGAN TRAN
show more
News
Features
Latest Releases