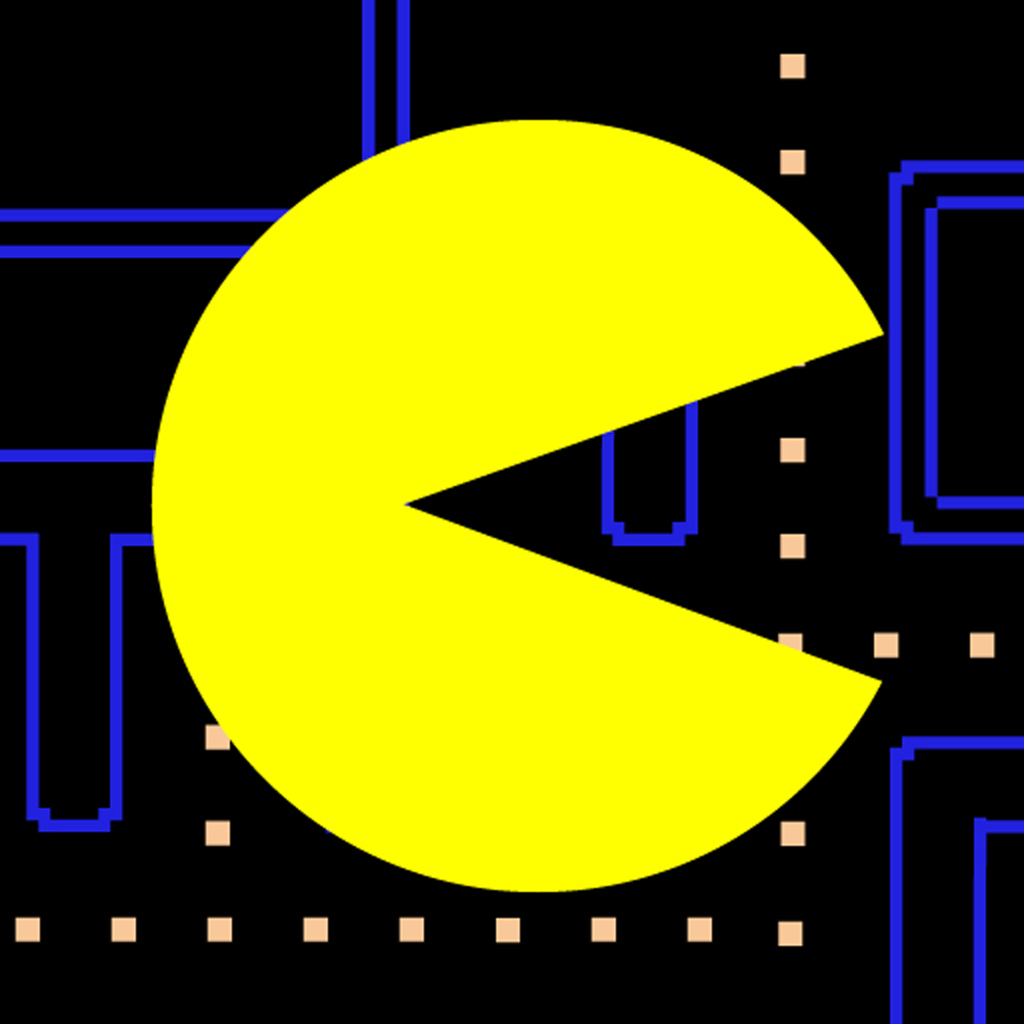 PAC-MAN for iPad
Showing app details for
iPAD
| | PUBLICATION | DATE OF REVIEW | SCORE | REVIEW LINK |
| --- | --- | --- | --- | --- |
| | | 23 Feb 2011 | 8.0 | |
| | | 06 Jul 2010 | 7.5 | Read the review |
| | | 26 Jun 2011 | 6.0 | Print only |
APP STORE SUMMARY
*New holiday sale price for a limited time*

"4 out of 5" – Macworld "Arcade classic eats its way onto the iPad"

PAC-MAN, the world famous arcade classic, returns in this faithful rendition for your iPad! Play Original, Normal or Easy Mode and guide PAC-MAN with two different control modes. Navigate through the mazes by touching the onscreen controller in Joystick Mode or chomp on dots with the swipe of a finger in Swipe Mode. Munch fruits and other items for big points! Chomp all of the dots to advance to the next stage. Go for high scores and high levels! Gain an extra life at 10,000 points! Gobble blinking Power Pellets to weaken ghosts temporarily and eat them up before they change back. Avoid Blinky, the leader of the ghosts, and his fellow ghosts Pinky, Inky and Clyde, or you will lose a life. Lose all your lives and it's game over!

We recommend that you update your device to the latest iOS version before playing. We also recommend that you close the game before downloading the update. To do so, double-tap the home button to display the recent apps bar. Press and hold the Namco application icon until a red minus appears, then tap the minus sign to close the application.

Added support for iCade Bluetooth controller

CHECK OUT THESE OTHER COOL NAMCO GAMES:
- Ms. PAC-MAN for iPad
- Sky Gamblers: Rise of Glory
- Puzzle Quest 2
- Isaac Newton's Gravity 2
- Sky Gamblers: Air Supremacy
IMAGES (5)
EMBED THIS QUALITYINDEX BADGE
To add a Qi badge for PAC-MAN for iPad to your site:
Copy the HTML code snippet and paste it into your site.
The badge will automatically display on your web page with the PAC-MAN for iPad iPad app's current Qualityindex rating.
OTHER GAMES & APPS FROM BANDAI NAMCO ENTERTAINMENT AMERICA INC.
show more
News
Features
Latest Releases