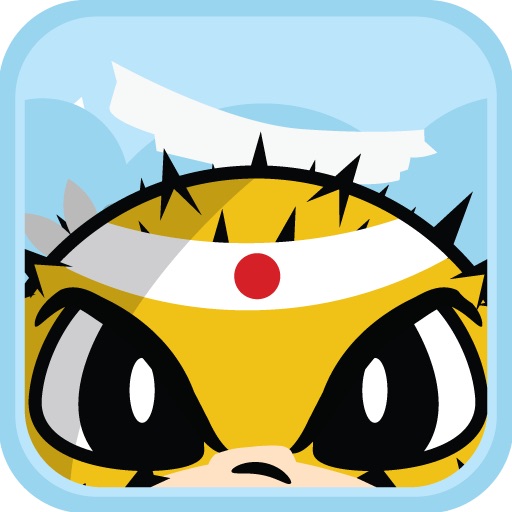 Banzai Blowfish!
APP STORE SUMMARY
TODAY'S SPECIAL PROMOTION: Banzai Blowfish is brought to you for free
by the all new App-o-Day: Free App Deal of the Day – by Iddiction.

Free for a limited time, only with App-o-Day. Get it while the promotion lasts.

See gameplay @ www.banzaiblowfish.com

It's here the all new desert stage!! With 8 totally new , totally fun levels!!!

NOTE: If you beat the whole game before latest the update , you will need to replay and beat the last level of the volcano stage to unlock the new levels.


** "Angry Birds be warned: You've got some solid competition in Banzai Blowfish." - gamezebo.com
** Banzai Blowfish! = Rolando + Angry Birds - razorianfly.com
** FEATURED BY APPLE AS NEW & NOTEWORTHY!
** "addictive title" - appstorm.com
** App of the day - moblly.com
**Top 5 overall app in Canada!
**#1 in Puzzle In Canada!
**#2 in Action In Canada!
**TOP 10 Puzzle in USA,Poland,India,Croatia, UAE, Kuwait,Philippines, Chile, Sweden, Mexico,Argentina, New Zealand

Keep the emails, reviews and feedback coming - we love to hear from you and thank you for your support!

King Hikari's son has gone crazy and captured all of the Blowfish in Lake Fuji. It is now up to one heroic Fish to save his friends and restore order to the land.

WARNING THIS GAME IS VERY ADDICTIVE

-----FEATURES----
☯ Universal compatibility, play on iPhone, iPad, iPod Touch (No need to pay again for a iPad version)
☯ Retina support enabled for iPhone 4, iPod Touch 4th Gen and iPad users
☯ 5 Stages with different themes - Rock,Snow,Night,Water,Volcano
☯ 48 Levels of fun physics action puzzles
☯ Unique Hand drawn graphics throughout the game
☯ Share you score via Facebook,twitter and email
☯ Compete world wide for the top score on Game Center
☯ Constant updates and new Stages and Levels on the way!!!!


NOTE: Please email us at info@redpiston.com for any info, tips, recommendations or if you have any issues with the game.
IMAGES (5)
EMBED THIS QUALITYINDEX BADGE
To add a Qi badge for Banzai Blowfish! to your site:
Copy the HTML code snippet and paste it into your site.
The badge will automatically display on your web page with the Banzai Blowfish! iPad app's current Qualityindex rating.
OTHER GAMES & APPS FROM RED PISTON
show more
News
Features
Latest Releases